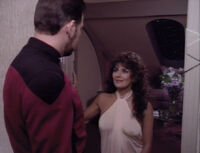 Deanna Troi – also known as Deena Troi and Deanna of Troy and Vageanna Troillop when working as a stripper and as an enlarger for the male crew men who often showed up for grief counseling – was a Betazoid shrink on the USS Enterprise-D. She was known for her propensity to crash vessels when commanding them. Historians believe Troi was singlehandedly responsible for Starfleet's decision to create General Order Eleventy-Three: "No Starfleet officer shall for any reason give command of their starship to Deanna Troi."
Family and relationships
[
]
Her mother, Lwaxana Troi, was a horny girl, attending all marriages naked in order to do it with the groom (see Hot 'n' Heavin' ;P). It was due to her pressure that Troi temporarily became a stripper.
She got married (finally!) to Million Balls Riker and the two took command of the USS Titan, so named after Troi saw Riker's d***. However, she continued a cyberlesbian relationship with Beverly Crusher in secret.