Humans
are one of the 4,875 sentient species from
Earth
. Humans make up much of the
Federation
, as they breed like rabbits and have lifespans comparable to fruit flies. They aren't strong, fast, telepathic, smart, or able to change their shape. Aliens such as
Vulcans
,
Saurians
, and
Klingons
always have to be careful not to breath too heavily on a human, lest they might die.
WHY ARE YOU READING ABOUT HUMANS WHEN YOU COULD BE READING ABOUT STAR TREK??!!
Fun Facts
Edit
The first Vulcan who shook hands with Zefram Cochrane crushed every bone in the feeble human's hand.
Most other sentient species have pets smarter and stronger than humans.
If most species had a choice of becoming either human or Talaxian, they'd commit suicide.
For some inexplicable reason, the Borg just fucking love humans. I can't figure it out.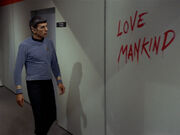 Most humans that get into positions of authority become criminal deviants. (See: Admiral)