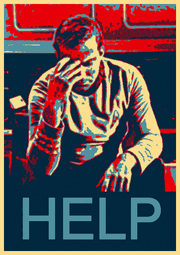 Welcome to Memory Alfa, Gvsualan!!!!!!!!!!!!!!!!!!!!!!!! Landru has noticed that you've already made some "contributions" to our database – thank you (we think)! We all (most of us, at least) hope that you'll enjoy our activities here and decide to join our clique.
If you think you'd like to learn more about working with the nuts and bolts of Memory Alpha, then you are in the wrong wiki. If, on the other hand, you want to learn about Memory Alfa, I have a link that you might want to check out: www.LetsAddSomeLameDirtyJokeToThisLanguishingAttemptAtHumourThatNoOneReads.com
One other suggestion: if you insist upon making comments on talk pages or make other sorts of disparaging remarks, please be sure to sign them with four tildes (~~~~) to paste in your user name and the date/time of the comment, so we know how to find you and your ilk. Otherwise, use some kind of sockpuppet.
If you have any questions, please feel free to post them in Memory Alpha's Ten Forward community page. They'd love the mail! No, really. Thanks, and once again, welcome to Memory Alfa!
Oh, and if you haven't come up with a clever user name patterned after some blue skinned alien, or a piece of made-up machinery, or even something approximating your given name, please note that your anonymous work will be dealt with pursuant to General Order 24. Have a nice day! --GNDN with a goatee 22:47, 15 April 2007 (UTC)